Exciting WA tech stars receive seed funding.

Seven exciting new WA technology startups will receive $40,000 each from the Vocus Upstart program to help further develop their ideas and commercialise their technology. Vocus Upstart is leading WA into an exciting era of tech innovation and invigorating the technology scene in the West.
The tech-accelerator program is focused on supporting and encouraging WA-based start-ups to launch and build their businesses and deepen the expertise and experience of the WA tech sector.
The 2016 Vocus Upstart participants have developed ground-breaking technology concepts and applications; ranging from a secure online voting system to entertainment experiences, and online student job markets to virtual reality training programs.
The successful startups selected in 2016 are:
The annual Vocus Upstart program operates in partnership with local innovation organisations eGroup WA and Spacecubed, which have a substantial track record of encouraging the tech sector in Perth.
The Upstart program provides each of the seven successful applicants with $40,000 cash, an extensive three-month mentoring program with successful entrepreneurs, investors, tech experts and professionals experienced in developing tech businesses, as well as dedicated working space at Spacecubed.
The program received 74 applications from across Australia and internationally, with 13 invited to pitch to an investment committee, which included Venture Capitalist Matt Macfarlane, Brett Looney from Amazon Web Services and Program Founder and Director Robert Nathan. Mr Nathan said: "Whilst the number of applications was similar to last year the strength and depth of the applications this year was much greater. The Perth startup ecosystem is growing and evolving which is great to see. "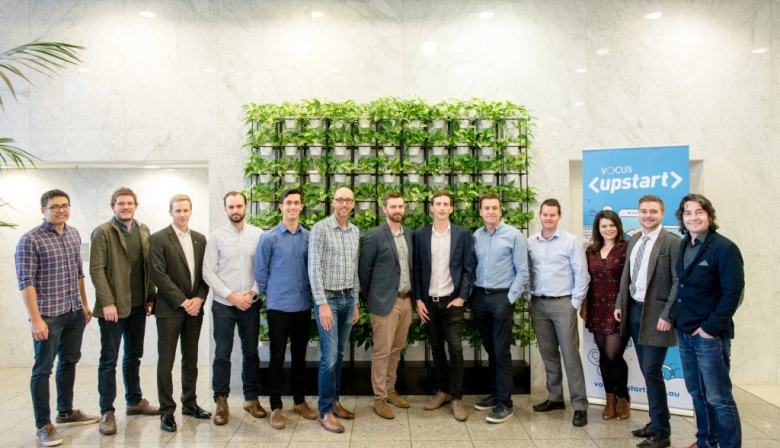 2016 Vocus Upstart participants
Vocus Communications Board Member Tony Grist commented that the combination of mentoring and financial help in this accelerator program would open the doors to greater success in the WA tech sector: "It is entirely possible that with the right support, encouragement and experienced help, these start-ups could turn into substantial businesses making a major contribution to the skills and status of the local tech sector, as well as the Western Australian economy."
The 2015 recipients of Vocus Upstart funding included Restalert, Hydralert, TeamAhoy , GeoMoby, Social.Folio , Australian Geotomography, and Offpeak Games. The founders of these startups are continuing to successfully develop their business having completed the first program in August 2015.
Our mission is to  build and grow outstanding early stage technology

companies and the startup ecosystem in Western Australia,  via a world class accelerator

program.

 
Upstart Investments Pty Ltd is a Corporate Authorised Representative of Treasury Services Group Pty Ltd (Australian Financial Service Licence No. 315347) 
Upstart Investments Pty Ltd
ACN 602 956 776
Unit 10/85 Forrest Street, Cottesloe
Perth, Western Australia